IUP Career Center gives job search tips at Six O'Clock Series | News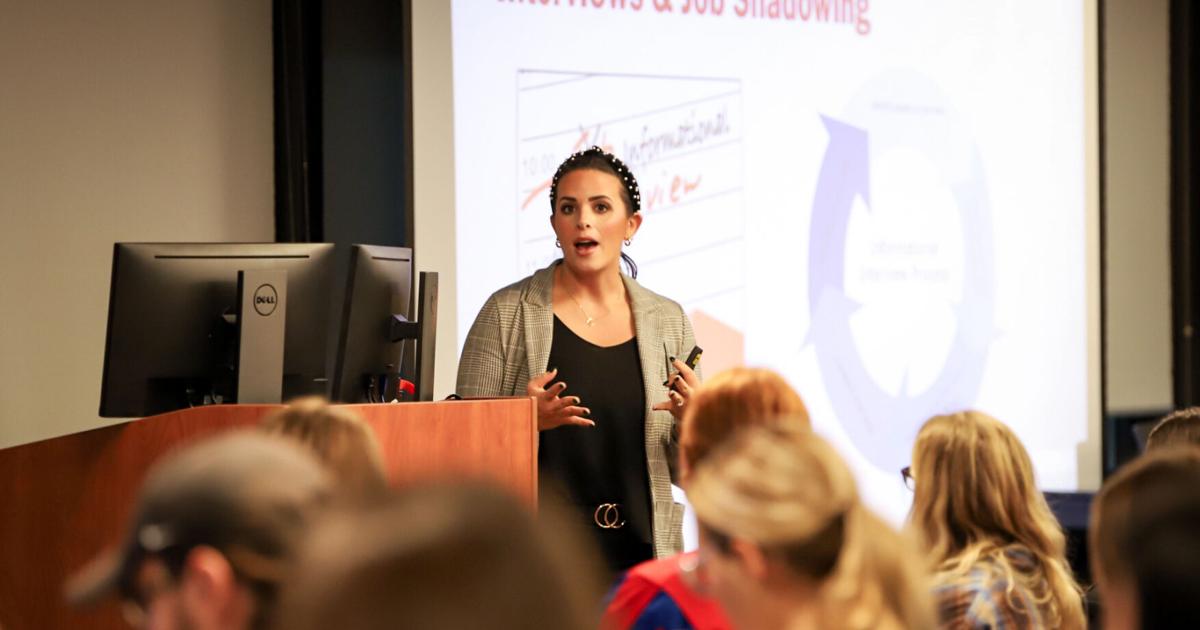 On Monday, IUP students were offered the opportunity to learn valuable tips and tricks regarding the post-graduation job search. Kelsey Thompson, associate director of IUP's Career and Professional Development Center (CPDC), led the presentation, which took place during IUP's weekly 6 O'Clock Series. IUP students in attendance ranged from freshmen to graduate students.
During her presentation, Thompson highlighted multiple steps that are intended to help students achieve their goals. These steps include finding a job that fits a student's personal interests, getting organized, developing job search strategies, purposefully applying to jobs, fully considering an offer once it is received and being especially devoted during the first few days of a new job.
Thompson also highlighted the importance of networking and finding connections during a job search, whether that be new or existing relationships. She noted that platforms such as LinkedIn and Handshake are extremely beneficial when forming new connections and building a network. From IUP alone, there are nearly 88,000 alumni who are active on these platforms and available for new interaction.
"I've worked with a lot of families, friends and students over the years, so I have been able to gather anecdotes from their kind of career journey or search as well," Thompson said. "Then, [I] use that to make sure that I'm giving students information that is helpful, tangible, productive and something that they can implement when they're searching for jobs and internships."
Aside from networking, Thompson discussed the importance of the elevator speech, which is a brief, seven second introduction used to create a good and lasting first impression. She also gave insight on how to best respond to the infamous request to tell an interviewer a bit about yourself. When responding, she suggests focusing on identity, accomplishments and goals.
Along with her main points, Thompson also included a section of advice from friends and IUP alumni that could aid students during this difficult task. The main ideas presented in this advice were to retain a growth mindset, build transferrable skills, gain hands-on experience, be open to pivoting from a chosen major to a different career path, embrace unexpected mentoring and maintain humility.
"I took a lot of the advice that [Thompson] gave with job shadowing, informational interviews and leading up to the job that I think I should be preparing for," Caylyn Shirey (sophomore, psychology) said.
During her presentation, Thompson also added a sixth step, called adulting, to her presentation. This extra step is intended to encourage people to explore interests outside of their career and to form an identity that is separate from their work. This is an important step when it comes to having a successful post college life, especially because after college is when forming new friendships and relationships can become more difficult for newly working adults.
"As best as you can, maintain some type of work-life cohesion. There is no such thing as work-life balance because there are times in your life or seasons in your life when work is having to take a priority, or your personal life has too many things going on. So, try and find some type of cohesion and blend," Thompson said.
Thompson's presentation was also accompanied by a brief address from Nick Joseph, IUP's campus recruiter for Highmark Health. Highmark Health is a sponsor of the Career and Professional Development Center, and occasionally offer opportunities to students, such as summer internships and paid two-year programs. Highmark Health's paid programs include a leadership acceleration program and an enterprise technology development program.
link