A new pastor at Holy Name | Herald Community Newspapers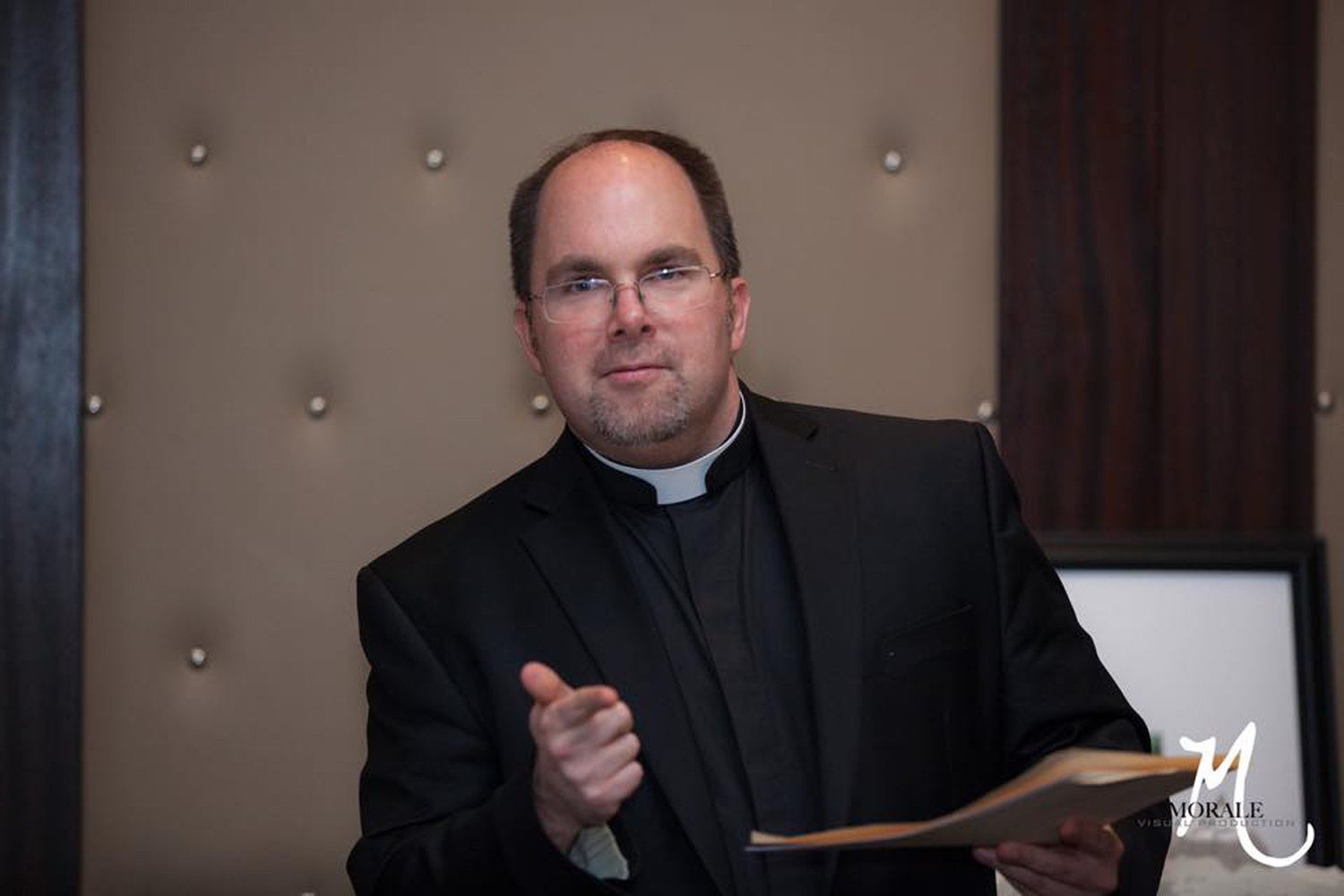 "God wants everyone to be on an adventure with him, and when you receive Jesus into your life, you receive the greatest gift and in turn become a wonderful gift to others," said the Rev. David Regan, 45, who will become pastor of Holy Name of Mary Roman Catholic Church in August.
He will succeed the Rev. Monsignor Romualdo Sosing, who died May 24 of complications of Covid-19.
"I'm happy to serve as pastor wherever the Holy Spirit calls me to be," Regan said.
Growing up in North Babylon, Regan served as an altar boy. In 1982, at age 8, he received his first Holy Communion. That, he believes, was when he was called to become a priest. 
"I just knew that's what God wanted me to become," he said. "I believe that if you want to change the world, become what God wants you to be."
 In high school, he said, his passion for his faith grew, and he joined his church choir and volunteered to teach younger children at the church after he entered ninth grade. 
"The older I got, the more I realized I needed to rely on God's grace. When you become open to Jesus, you become a conduit of mercy to others," he said. "When an individual realizes that they are not the author, conductor or director of their own lives, but they are receivers of a great gift and thereby become conduits of God's mercy, that is truly a humbling experience." 
After high school, Regan attended St. Bonaventure University, a Franciscan college in upstate New York, and later the Franciscan University of Steubenville, Ohio, from 1998 to 2000.
After college, he spent time working as a layperson at the Missionary Diocese of Fairbanks, Alaska. He helped coordinate the diocese pilgrimage for the Missionary Diocese to World Youth Day 2002 in Toronto. Through that experience, he said, he developed a deeper connection to God and was further inspired to enter the priesthood. 
He began his seminary studies to become a priest at Mt. Angel Abbey in St. Benedict, Ore., from 2004 to 2010, and completed his studies at Immaculate Conception Seminary in Huntington. He holds degrees in philosophy, divinity and theology.
In 2010, he was ordained and began serving at St. Patrick's Roman Catholic Church in Smithtown. While ministering at St. Patrick's, he was also the Catholic chaplain at Stony Brook University in 2012.
"Every vocation is first how God has chosen to love the individual and secondly how he wants to love those around the individual," he said. "My call into the priesthood was a lifetime of God molding and forming my heart, and I just needed to follow. I accept how God has chosen to love me and use me to love others." 
In the spring of 2015, Regan became pastor of St. Gertrude's Church in Bayville, where he lives now, and he said his assignment to Holy Name comes as a bittersweet surprise. 
"I look forward to serving at Holy Name of Mary with all my heart, but I am also heartbroken leaving St. Gertrude's," he said. "I hope to be healthy, holy and hardworking for the parishioners at Holy Name of Mary Church, but it is very difficult to love a community and say goodbye." 
Many who have previously worked with or known Regan said his relationship with God is deep, and he is committed to serving others.
James Sheehan, 60, the director of faith formation at St. Gertrude's, who has worked with Regan for the past two years, said he clearly cares about the parishioners, programs and services of St. Gertrude's, and wishes people to be the best they can be. Sheehan also said he believes his colleague will adapt well to his new church and play a vital role in leading others to become closer to God.
"Reverend Regan is energetic. He can multi-task. He interacts well with St. Gertrude's kids in formation and in colloquial school there," he said. "Reverend Regan's faith is constantly growing because he is always going on retreats, he reads a lot, and he's very reflective by looking at world events in light of the gospel." 
"He is a very compassionate priest, a wonderful leader, and he is a well-educated theologian who lives life according to Christ and leads others closer to Christ," said Roseann Pultorak, 53, a parish member of St. Patrick's Roman Catholic Church in Smithtown, who has known Regan for about nine years. "He encourages the youth community and deepens their faith, and he is a positive person and a great, truthful and honest priest."  
"A pastor needs to be immersed in the community to know what they need, so in August I will learn more," Regan said. "I do know there is power in the faith experience of people, and I love being in front of Jesus on behalf of my Church family. We all need Jesus, no matter who we are and when we pray with, for and around people, miracles happen. I look forward to seeing all the miracles God has planned for my new church community."

link